Organising a great event calls for stamina. Creativity. Professionalism. It's all about teamwork. At the Van Nelle Fabriek, we have longstanding partnerships with industry professionals at the top of their game.
Creative caterers always on the lookout for new culinary experiences. Technicians skilled in delivering cutting edge AV technology – everything turnkey. We work with Traffic Support partners to ensure the safety of our guests. They manage every aspect of traffic, keeping everything moving in the right direction. Our Crowd Safety partner safeguards your personal safety. We also work with a charitable organisation, Stichting Jarige Job, they can add a broader social context to any event.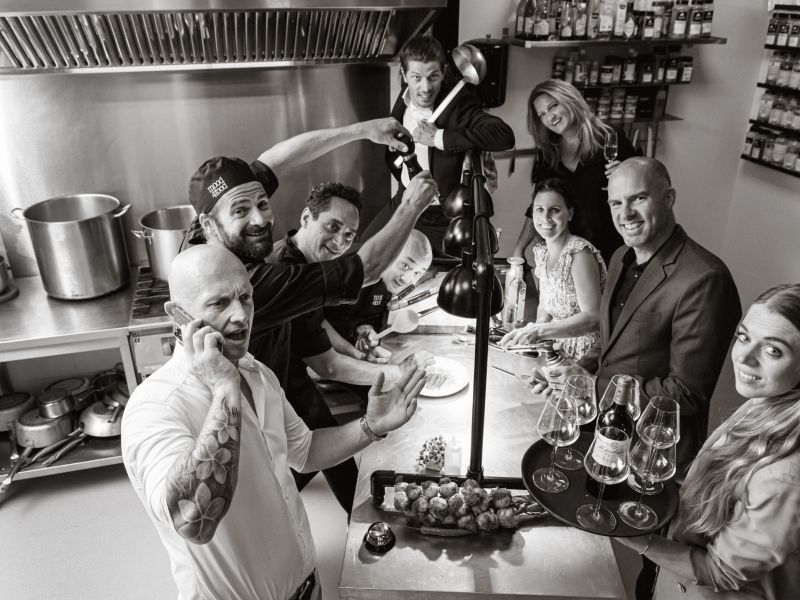 Catering
Mood4Food
In addition to providing food and drinks, Mood4Food believes in experience, conveying a message or telling a story. Together with the client, they think about the way in which they can provide guests with delicious and honest dishes, good coffee, fine wines and an appropiate design and decoration of the event. They do this under the guidance of a great permanent team that always makes it a party. With catering that is completely devoted to sustainability and the 'no waste' policy, Mood4Food is taking a big step in the green direction. Ensuring a sustainable appearance at events, dealing responsibility with purchasing in pre-production and seperating waste are Mood4Food's focal points. Mood4Food mainly focuses on conference and event catering and, together with Van Nelle Fabriek Events, has put together (day)packages that form a good basis for any event. Making a challenge out of every assignment keeps it exciting and that's why Mood4Food loves the profession so much. Also curious about the cooking skills of Mood4Food? You are most welcome for a tasting!
The Food Line-Up
The Food Line-Up is a creative and innovative caterer and they are specialized in large business events: from happening business parties, inspiring congresses or walking dinners to every other business event. It is their mission to help people to discover better food: good, pure and honest food for everyone. It means that dishes have the least possible negative impact on people, animals and the planet. An honest price was paid for the ingredients used in the dishes. That is why the Food Line-Up always works with the four principles which you will find at every event and on your plate: even more vegetables, local expertise, less waste and many new disoveries. Partly because of this vision The Food Line-Up was the first caterer in Europe to receive the 'B-Corp-certificate'. Their approach to catering is slighty different. With a network of 100 independent chefs, food pioneers and culinary creatives there is a unique line up for every event. From streetfood to top notch dishes -always really delicious and sustainable from beginning to end.

Van Nelle goes Vegan with 'Vedge'
We are the first meeting and event location in the Netherlands to offer a full vegan catering option. Veganism is a fast-growing diet choice, as people increasingly choose to live a more conscious lifestyle, and reduce their impact on the planet. We designed our full vegan menu to give people an organic, ethical option, and a great culinary experience. Many people are amazed at just how delicious vegetarian dishes turn out to be, and even the staunchest of meat-lovers enjoy our veggie offerings. 'Vedge' is a great option for small groups, and for events with thousands of visitors.
Van Nelle Fabriek Events, Chef Friedjof Kempenaar and Grand Catering developed 'Vedge', an entirely vegan catering option.
Bourgonje has been working for the Van Nelle Fabriek for more than 15 years. Established in 1982, the company has become an authority in the field of turnkey rental and sales, dealing with all kinds of projects – large and small, straightforward and more complex. Bourgonje has specialist, experienced teams for all your sound, lighting, camerawork and video needs, and can also provide booths for interpreters. The team has busy daily schedule that covers everything from events and conferences to TV programmes and fixed installations. Everything is executed to perfection, including the latest AV technologies and innovations. The company prides itself on its dedicated crew – Bourgonje's team of enthusiastic professionals is there to guide you through the process. Thanks to an extensive network, the company can also call on a variety of specialist partners, which guarantees that you can always count on an unbeatable mix of expertise, price and quality.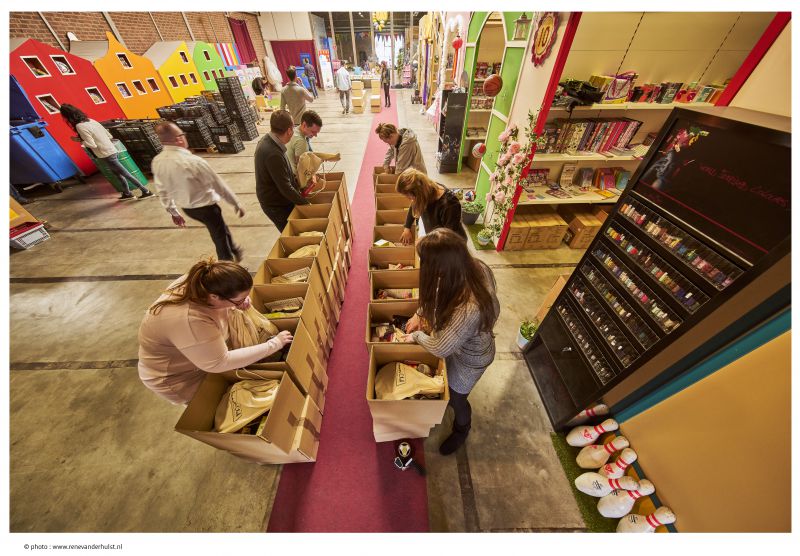 Every child deserves to celebrate their birthday! You'll find a real Charlie and the Chocolate Factory at the Van Nelle Fabriek. The red carpet awaits you and, on either side, you'll see mountains of presents, giant candy jars, ginormous lollipops, all kinds of colossal candies, an impressive chair made out of books and what could be the steepest slide in the Netherlands. This is the special place where birthday boxes are filled by the charity Stichting Jarige Job. The organisation makes sure that kids whose parents can't afford it, get to enjoy a birthday celebration. In the Netherlands there are more than 61,000 children who miss out on birthday gifts and parties because their family doesn't have the money. Stichting Jarige Job gives these children a birthday party in a box. Inside there's everything they need for a proper birthday - at home and at school.
BloemBloem often works with Van Nelle Fabriek Events, providing imaginative, lush décor for all kinds of events. With a colourful variety of flowers and plants, (luxurious) furniture and quirky props they create the perfect setting for your occasion. BloemBloem creates displays for intimate meetings as well as large-scale events with 1000+ visitors. Their mission is always to bring a touch of delight to every event, inspiring clients with passion and creativity.
Fraai Projecten Decor & Styling
Fraai Projecten Decor & Eventstyling specializes in the art of creation. The perfect decor- and eventstyler with a wide array of furniture and decorating materials for creating an overall experience with impact. The close cooperation with Wolterinck Event Decoration, for comprehensive flower decorations, completes the picture.
Van Nelle goes green. In 2018, the Van Nelle Fabriek was awarded the international Green Key quality label. Sustainability is one of our watchwords, and we make every effort to run our sites sustainably, without sacrificing comfort or quality for our guests.
We use a grey water system and green energy. The Van Nelle Fabriek separates waste for recycling and Van Nelle Fabriek Events uses compostable 'plastic' beakers. The site is fitted with sustainable LED lighting and has received the 'A' level label for a sustainably operated historic building.
Inclusive and accessible to all. The Van Nelle Fabriek is for everyone. In 2018 the Van Nelle Fabriek was the first major Dutch event location to receive the Nederlands Keurmerk voor Toegankelijkheid (KTG), a venue access award. The award recognises the achievements made by the Van Nelle Fabriek to make its locations accessible to people with a hearing, sight, motor or learning difficulty, and for those wishing to use a service dog.
The Van Nelle Fabriek takes additional measures to improve accessibility for visitors with a disability. So far, we have introduced specially designed routing, extra information on the website, and have trained all our staff to assist guests who are hard of hearing, sight-impaired or wheelchair users in accessing our event location.
Would you like to know more about the accessibility of the Van Nelle Fabriek?