Rent an office in the Van Nelle Fabriek
The Van Nelle Fabriek offers a variety of characterful offices, in all shapes and sizes: from all-purpose to ready-made. You can also hire space for conferences and presentations, all with the fastest internet in the Netherlands. Work in the Van Nelle Fabriek and grow your professional network. Lunch together in De Branderij or enjoy cocktails in our Business Club. Today, the workplace is a powerful story.
Custom workstations and offices. From 50 to 5000 m2. Whoever undertakes, finds his place in the Van Nelle Fabriek. The first daylight factory in Europe was designed for better conditions for workers. A vibe that is still tangible. Do you want a plug & play office or just a tailor-made solution?
Plug & Play offices. The Van Nelle Fabriek Business Hub provides beautifully designed offices and comfortable workplaces. Here you are welcomed every day with a smile. Flexibility equals VNF Business Hub.
The building, the events, the activity and the museum: the Van Nelle Fabriek is constantly changing. This is where news is made.
Photographing the Van Nelle Fabriek?
The photogenic UNESCO World Heritage is the perfect location for photography and video recordings. A feast for the eye and lens. Is the first daylight factory in Europe on your wish list for professional imaging? Feel free to contact us.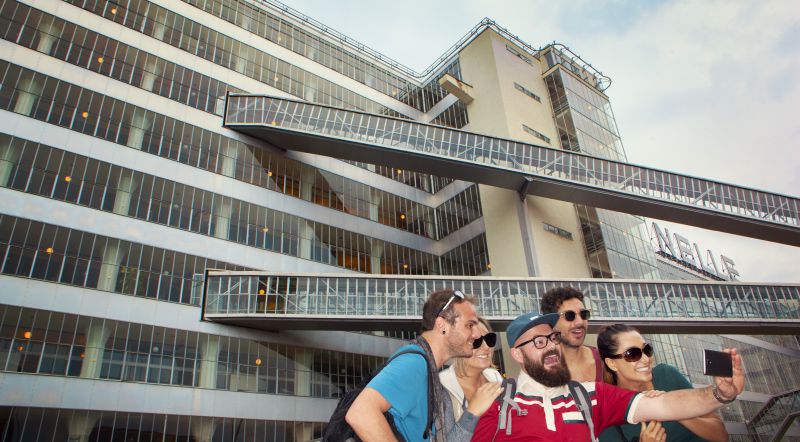 Experience the Van Nelle Fabriek
Once the most modern factory in the Netherlands; this innovative character is still felt in the UNESCO World Heritage. The Van Nelle Fabriek is full of entrepreneurship and thanks to the progressive architecture, the building still gives you energy.
As an office holder in the Van Nelle Fabriek you can register for a tour of the site. Do you want to know more about your workplace? Or do you not work in the Van Nelle Fabriek (yet), but are you curious about the rich history? Mail your request to us and we will contact you soon.
---
Why choose the Van Nelle Fabriek? Here's why!
The first daylight factory in Europe, designed to energise

From flexible contract or ready-made solution to fully bespoke furnishings

From flexible workstation, private office to large business space

Throughout the factory, for an unlimited number of users

Near four highways, 8 minutes by public transport from Rotterdam CS

Coffee, lunch or drinks in the industrial restaurant

Celebrations, conferences or seminars; everything's possible

Plenty of space for drinks, a barbecue or party

Networks or inspiration in the Van Nelle Business club

Excellent access facilities
Our office team is happy to help you
Marja and Remco are aware of all ins and outs of the Van Nelle Fabriek. Do you have any questions or specific wishes? Our team is always there for you.